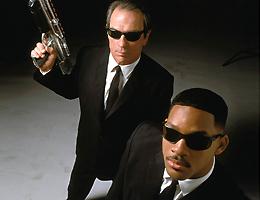 Activision vient d'annoncer l'arrivée sur consoles des hommes en noir les plus célèbres de la galaxie!
Histoire de coïncider avec la sortie au cinéma du troisième opus, cette mouture vidéoludique   intitulée   Men In Black: The Book of Thoth arrivera donc au printemps 2012! Un "soft" qui se voudra résolument emprunt de l'univers des Men in Black, avec bien entendu la présence des personnages de la saga, mais également l'apparition de nouvelles têtes.
Explosions et tirs en tous genres devraient du coup être de la partie, comme l'attestent les propos de   David Oxford, vice-président exécutif d'Activision : " La franchise Men in Black est le point de départ idéal pour offrir une expérience de jeu unique   digne d'Hollywood"
Un sortie en prévision qui se fera à  priori sur consoles PS3, Xbox 360,   Wii et 3DS!
On se quitte avec deux screenshoots :
Source : www.computerandvideogames.com